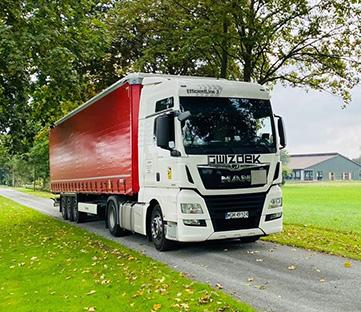 History of the GWIZDEK company from Stańkowa
Our beginnings date back to 1986, when the first owner - the senior of the family, Jan Gwiżdż, founded a one-man transport company. At the time when he was working as a professional driver, the company operated exclusively on the domestic market. At that time, he provided transport services using a "legendary car", namely a Star brand "tipper", which transported sand and aggregate. Then came the Autosan truck, which he himself converted into a cattle truck. Later, as the company's needs grew, the first MAZ tractor unit was purchased, followed by the Volvo F12.
We have been operating on the international market since 2007
More than 35 years have passed since the establishment of the company. Along with its development, more trucks appeared and the scope of activities grew. One thing, however, remained unchanged - passion for motorization and respect for the profession of the driver.
We have been operating on the international market since 2007. At that time, we started with 25 modernly equipped tractor units and 11 Wielton and Koegel curtainsider trailers. The Transics satellite location system was responsible for the safety of drivers and cargo. At that time, the first two Euro 3 vehicles were purchased under leasing - Renault Premium 420 DCI tractor units and curtain-type semi-trailers - the Schmitz and Schwarzmuller brands.
Plans for the future
A lot has changed since then. The company does not stand still. We are constantly developing, which is manifested, among others, by by systematic expansion and modernization of the fleet. At present, it consists of 56 trucks. In addition, we operate on the AdSecure system - a modern tool for navigation and comprehensive fleet management.
Our trucks can be found all over Western Europe (except Great Britain). However, it is the fleet that we do not have that makes us proud, but the well-coordinated team and great drivers who make up the Gwizdek company.