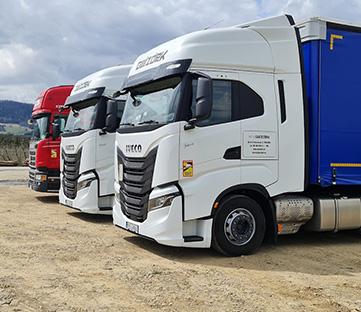 International transport within the European Union
We have been dealing with international transport in the territory of the European Union since 1986. The fact that we are a family business is our greatest strength. We offer partnership terms of cooperation, we work in an atmosphere of understanding and trust. For over 35 years, we have been making every effort to ensure that all goods entrusted to us reach their destination as quickly as possible, on the one hand, and safely on the other. Thanks to the AdSecure tracking system used - based on satellite technology, we know exactly where all the vehicles in our fleet are. This allows us to react quickly and practically immediately to any possible problems that may arise on the road.
Over 50 vehicles that meet the highest ecological standards
We are constantly increasing the scope of our company and expanding the fleet. Currently, it is made up of 56 Euro 6 class tractor units. We have Iveco, Ford, Mercedes, Volvo, Renault and Man cars. Thanks to them, we transport various types of pallet goods, mainly in the 1 loading and 1 unloading system. We can boast of cooperation with large foreign companies and leaders in their industries. We transport loads of regular customers, which are located in well-known logistics centers.
We provide transport services mainly in the west and south of Europe
The current area of ​​our company's activity is focused on goods transport services in the following countries: France, Germany, Belgium, the Netherlands, Luxembourg, Austria, Spain and Italy.
Our success lies in the experienced staff. We employ over 80 drivers from Poland, Ukraine, Russia and Uzbekistan, as well as helpful forwarding staff responsible for the efficient organization of transport. Would you like to join our team? Check current job offers and start your career as a professional driver in our company!